After a year and a half of transitioning in and out of lockdowns, COVID-19 legal restrictions are easing in the UK. Yet we are all still living in a period of change. Ways of working, moving around buildings and easy access to sanitisation equipment are just some of the potentially lasting changes.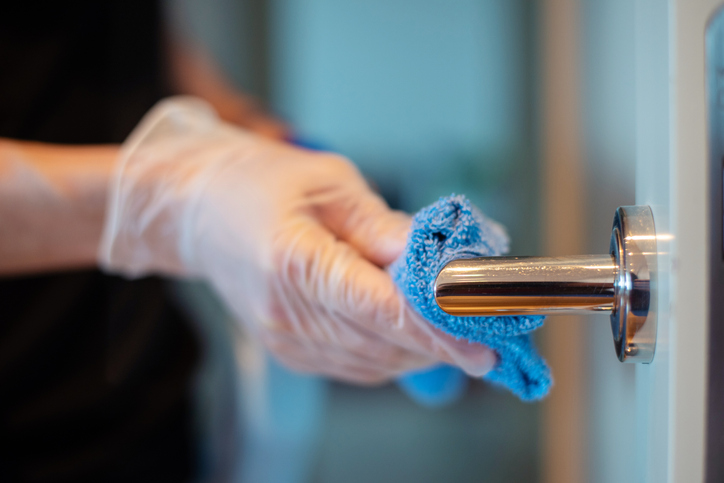 With many people remaining cautious about returning to buildings that they once used freely, we share our learnings on how to give people confidence when using your spaces.
Our top tips:
Visibly clean and sanitised buildings help to protect your reputation

Smelling clean isn't the same as being clean

Seeing cleaning in progress is no longer the negative it might once have been

Meeting rooms are no longer the only meeting spaces

Consider your customer journey – from arrival to departure – and what could knock their confidence along the way

Keeping open lines of communication between cleaning providers and facilities managers ensure ease of adaptation to future changes
Now, as people begin returning to work in offices, occupying public spaces and the reopening of the hospitality sector, high-quality cleaning services are vital to ensuring the health and safety of everyone.
Whilst the two businesses in the Tudor Group work across a vast array of sectors, cleaning for hospitality businesses has always played a large part, and as such, we have adapted with our customers to safeguard their buildings and their users.
In light of the COVID-19 pandemic, cleaning has shifted from being considered by some as a 'decorative' service to now being seen as a key necessity. The effects of the pandemic will no doubt stay with us for years to come; businesses have adapted their ways of working to minimise risk, placing the safety of all users at the forefront of their priorities, with cleaning now being an integral function.
The hospitality sector is one that has been particularly impacted by the pandemic, through government-enforced closure, and ever-changing, restrictive guidelines as businesses reopen.
Cleaning in hospitality – delivering 30 years' expertise
Our experience has given us great insight into the changing requirements of our clients in the current climate. The demand for cleaning staff is now greater than ever, with additional cleaning measures being implemented across our entire portfolio. As a result of the pandemic, stadia cleaning and maintenance projects now require an even larger taskforce of cleaners. Currently, to ensure optimum sanitisation, we're providing 120 attendants for a stadium at 10,000 person capacity, in comparison to the 30-40 provided previously when at an 80,000 person capacity.
To bring confidence to employers, customers and the wider community as restrictions lift, the Tudor Group has launched a Back to Business programme, developed by industry professionals, using the latest in cleaning technology. The concept is offered as either a one-off sanitisation/decontamination project, or as part of a wider on-going cleaning regime. The regime is based on a methodology that will not only execute the cleaning and sanitisation of your facility, ensuring it is safe for all users, but also develop a follow-up programme and deliver training to your teams, to ensure the understanding of key risks and the ability to maintain a safe working environment.
Whilst, for us as a provider, cleaning has always been centred around safety, it has been clear to see that there has been a shift in the external perception of cleaning services, from a focus on aesthetics to a focus on sanitation. As such, it is important for hospitality businesses to consider the entire customer journey and reassure the public that they are in safe hands when visiting their venues.
The customer journey
After numerous closures following government guidelines, it is key that customers are receiving the hospitality experience they're expecting, and arguably very much looking forward to.
The physical customer journey begins the moment the venue and its grounds are visible to the customer – the exterior of a building is just as crucial to the customer experience as the interior. The digital one begins even before then, so consideration for how to reflect your commitment to a clean and hygienic environment should be carried through onto your website.
Comprehensive façade cleaning and maintenance services will help present your venue in the best light, including making sure you are up to date with:
Signage cleaning and repair

Window cleaning

Cladding cleaning

Cleaning and repair of light fixtures
The cleaning and maintenance of entrances and interiors is equally as important to achieving a high level of customer satisfaction. From standard scheduled cleaning to deep cleaning, the needs of the hospitality industry are varied, especially as it is often functioning on a 24/7 basis. You need to ensure that services are available to suit your timeframes, with flexibility both during and outside of traditional business hours, and schedules adjusted directly to the needs and nature of your business.
As restrictions ease and venues can begin to once again function at full capacity, it is vital that a practical schedule is identified, that can be delivered in a safe and sanitary manner.
Reconsidering 'meeting spaces'
One of the significant changes we have seen in the industry, is how the concept of meeting spaces has evolved.
During the periods when people were working from home but not under lockdown, or where job requirements necessitated it, meetings were still taking place. However, not necessarily in the boardrooms of old. Now, people were meeting in all sorts of public spaces, including service station food courts, hotel lobbies and cafés. For many venues, this meant an adaptation of schedules and around the visibility of cleaning operatives to provide reassurance and maintain high standards.
With the return to the office on the horizon now for many, meeting spaces have again changed. People may not be as comfortable in a large room, but may favour smaller, more open spaces. Informal meeting areas are springing up and these also need attending to, to protect users as well as ensure brand reputations are protected too.
What next?
Many businesses have already adjusted the way in which they function in order to meet new demands. Cleaning is now an essential service, and it is more important than ever to invest in a quality cleaning service to ensure the safety of staff and customers.
For more information about how our Back to Business programme can help you to restore business confidence to your employees, customers and the wider community, click here.
For any enquiries, contact our team on sales@tudorcc.com.