At Tudor Group we offer many different cleaning services: from the daily cleaning practice of wiping surfaces, mopping floors and emptying bins, to abseiling for cleaning at height operations; from deep-cleaning services for industrial sites, to specialist cleaning and graffiti removal.
Different cleaning requirements are needed for the varied cleaning projects – but one thing remains constant: the professional, skilled approach and attitude of our operatives. It is often said that any company's biggest asset is its people, something that is certainly true for us: our team is the beating heart of our business. Our accreditation provides documentation of the work we put into training our operatives and managing our workforce on an ongoing basis. We ensure our teams have that invaluable blend of aptitude and attitude, and we maintain a skills-tracker to keep updated training and ongoing development on target.
What makes our operatives different?
Adapting to our clients' needs is a major point of difference between our operatives and others'. At Tudor Group, we know that adapting our services to suit the needs of the environment, and focusing effort where it's most required, rather than taking a 'one size fits all' approach, results in a far more effective solution for our customers. Our operatives understand this, too — making their approach to jobs more flexible, more considered, more successful.
Fabien Caqueret, Tudor Group Managing Director, explains this more tailored approach: 'Agreeing and working to an output-orientated specification means understanding our clients' desired outcome and then working as required to achieve that. We believe that it's a smarter way of working: it's about allocating resources where they are best required.'
Combining this approach with the five core values which underpin our business results in successful partnerships:
Safety – Best practice, no compromise

Quality – Right, first time

Passion – Fully committed, always

Accountability – I take ownership

Fairness – Fair pay, sustainable society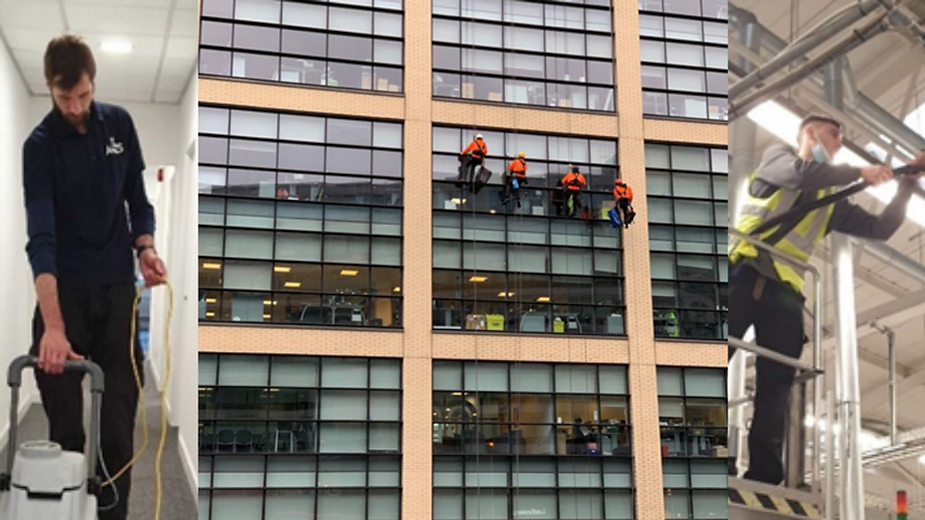 Customer service
Our operatives have a wonderful approach to customer service, too, happily 'going that extra mile' to ensure customer satisfaction. One of our teams recently completed a job at the Agri-Tech building on the Harper Adams University campus in Shropshire. Due to careful pre-project planning and great time management, the work was completed early – but rather than packing up and leaving, our team used the extra time to clean all the external windows, with no additional cost to the client. Lee Hurdiss, Operations Manager at the Agri-Tech Innovation Hub, commented: 'I'm very pleased indeed with the works completed. Please pass on my thanks to the operatives [who were] focused, polite and helpful.'
In this spirit of total client happiness, Anna Psztyk, AQS Contract/Project Manager who looks after our student accommodation projects, makes sure she adds one extra cleaning task to each project – for example, cleaning the oven even if it wasn't specified – to demonstrate her team's ability to add even more value to Tudor Group's service. 'We take pride in the relationships that we've built up with our clients over the years', Anna explains, 'and only want to deploy teams that share our work ethic and who we know will deliver the high standards that we've come to be known for. Our standards are very high, and each site has completely different requirements. So, we check absolutely everything. Which is why our projects are successful and our clients are happy with our work.'
Training
Training is key, too. Ben Cadd, Tudor Group's Group Safety Health Environmental and Quality (SHEQ) Manager, who works closely with our HR team in training and managing our workforce, stresses: 'All employees adhere to the standards set by the British Institute of Cleaning Services (BICSc) and by ISSA, the leading worldwide association for the cleaning industry.'
From our operatives who perform daily cleans to our window cleaning operatives working at height, Ben ensures they have the correct accreditations – be that using International Powered Access Federation (IPAF)-approved equipment to Industrial Rope Access Trade Association (IRATA) rope access techniques – and maintains our policies and procedures that back this up.
Ben comments: 'We are committed to continuously improving Health and Safety standards – utilising our ISO 45001 Safety Management System to ensure we are operating with safety as priority. These platforms help us to capture necessary training requirements for our employees and contribute to the high standards that we uphold as an organisation.'
Ability, attitude, understanding clients' needs, conscientiousness, caring and up-to-date, thorough, training makes our operatives shine. As Fabien Caqueret says: 'We're proud to have a dedicated and diligent workforce – and to invest heavily in their training. We positively empower our staff to look for areas of improvement and encourage their views and ideas. After all, they are best placed to see where a small change could make a big difference.'
The Tudor Group serves clients all over the UK — working with national hotel chains, restaurants, educational institutions and transport providers. To see how we can help you, please contact 0161 789 3550 or email sales@tudorcc.com .