Rope access cleaning is a method of cleaning often used at height, or in hard-to-reach places, as an alternative solution to traditional forms of access, such as scaffolding. Tudor Contract Cleaners has many years' expertise in delivering rope access cleaning and maintenance services through a safe, cost-effective delivery model, helping protect buildings, their users, and our customers' reputations.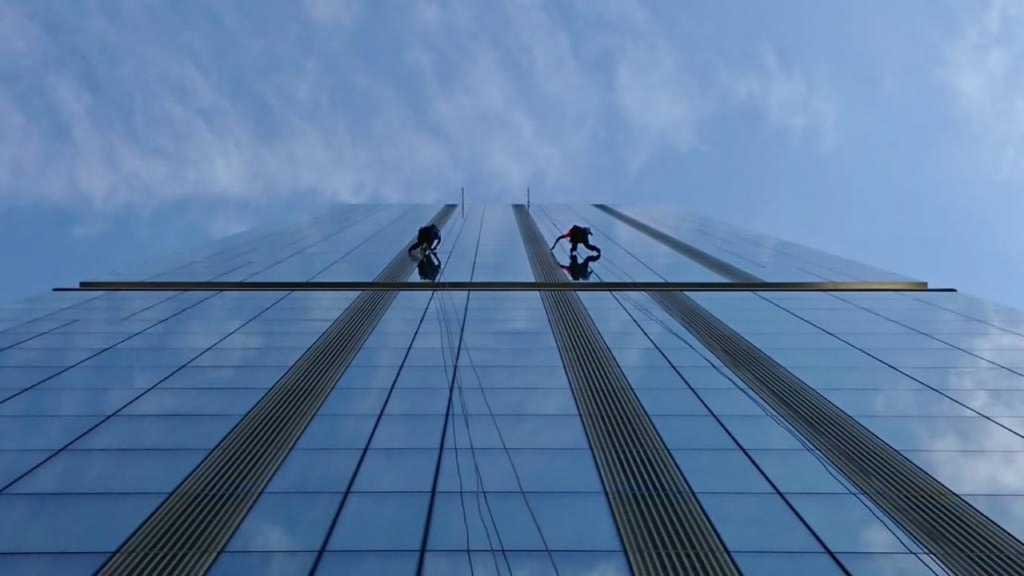 The UK's growing population and intensifying urbanisation are driving the construction of high-rise buildings. As tall buildings continue to rise in not only height but also numbers, demand increases for quality cleaning at height services that prioritise the safety of customers, employees and the general public.
What is a rope access system?
As defined by the International Rope Access Trade Association, a rope access system is a safe method of working at height, where ropes and associated equipment are used to gain access to and from the work position, and to be supported there.
Tudor utilises various access systems, including rope, Mobile Elevating Work Platforms, and scaffolding. We select the best option based on the unique requirements of each client and project, with a focus on safety, accessibility and cost.
Tudor has a vast portfolio of work completed using rope access systems. Notably, much of our façade cleaning projects on high-rise buildings are completed using this system, with Rope Access Technicians abseiling down from the top of the buildings.
Rope access vs other methods of cleaning at height
Whilst there are many different methods of cleaning at height, rope access is a workable solution in instances where ground-based methods, such as extendable poles, scaffolding or vehicle mounted cradle, may not be possible or practical. For example, the use of scaffolding may create a need for road closures or alternative entries into buildings, causing disruption. Rope access is also the preferred method when working in adverse conditions, such as near bodies of water, where ground-based solutions simply cannot be implemented.
As well as causing less disruption in-situ, the relative freedom offered by abseiling enables operatives to reach problematic areas of sites that may otherwise be inaccessible due to weight limits, time restraints or safety issues. In addition, rope access eliminates the negative impact on the environment associated with other methods of cleaning at height that require operation through diesel vehicles.
In many cases, rope access can ensure significant cost savings, compared to other methods. It calls for a minimal amount of equipment and rigging often requires mere minutes or hours to assemble, making for a more cost and time efficient method compared to scaffolding access, for example, which requires a vast amount of space, bulky structures, and days to erect. Ropes are often rigged directly through permanent building structures, such as steel rods, making setup possible in virtually all settings. Alternatively, where permanent structures are not available, temporary structures can be implemented to support the access system, in the form of deadweight trolleys.
When can rope access be used?
When thinking of cleaning at height, many people think of abseiling down the outside of a multi-storey building – whilst we do provide a high-quality façade cleaning service, there are many other cleaning and maintenance works that benefit from rope access, that are not restricted to height.
Tudor delivers an array of cleaning, hygiene and maintenance services via rope access, across a variety of sectors. It can be utilised both indoors and outdoors, allowing for the completion of otherwise impossible to reach or dangerous works. Our trained and certified technicians can offer support with the following tasks:
Façade cleaning

Façade repair, maintenance and snagging works (during or post construction)

Façade inspection and photographic surveys

Glazing repair

Touch up painting and coatings

Lightening protection systems

Signage

Mastic and sealant works

Pest control and bird netting

Electrical and pipe work systems
Safety of both the access technicians and its customers is at the forefront of all of Tudor's business activity. All Rope Access Technicians hold an International Rope Access Trade Association (IRATA) qualification and operate with strict adherence to the BS 7985 Code of Practice for the Use of Rope Access Methods for Industrial Purposes.
Whilst rope access is commonly used to suspend technicians in the air, our operatives have also used their skills and training to manoeuvre objects for cleaning or maintenance. A recent example of this is the cleaning of a suspended art piece at the Manchester Art Gallery, where a bespoke solution was designed to safely lower the piece for professional cleaning.
Benefits of rope access
There are many advantages to using rope access, the key being:
Safety

Cost-effectiveness

Minimal disruption to ongoing operations

Ease and speed of setup/removal

Overcoming accessibility issues
The safety of staff and customers is paramount to us and our customers, which is why all our technicians are qualified to IRATA standards, and work within the BS 7985, ISO 45001, ISO 9001 and 14001 standards. This is underpinned by strict controls, measures and regulations within the industry, making rope access one of the safest methods for working at height.
With minimal time, personnel and equipment required to set up, rope access can bring significant cost savings. The ease and speed of the deployment and dismantling processes means that rigs can be installed and removed on a daily basis, reducing any disruption to the public and the risk associated with leaving freestanding structures unsupervised. The speed of set up and removal of our systems also alleviates the need for excessive downtime on site, resulting in minimal disruption to ongoing operations.
Whilst some projects may seem impossible to carry out due to accessibility issues, Tudor is able to design bespoke rope access systems, tailored to specific site requirements, providing unrestricted access solutions in all situations.
If you have a cleaning or maintenance requirement to discuss, please get in touch on 0161 789 3550 or at sales@tudorcc.com.