There are over 700,000 people studying through an apprenticeship in England, with over 80% of students doing one of the four most popular topics, which include Retail and Commercial Enterprise.
The overall number of apprentices represents an increase of 3.8% over the previous year, with more employers recognising apprenticeships as a fantastic recruitment opportunity for both company and employee.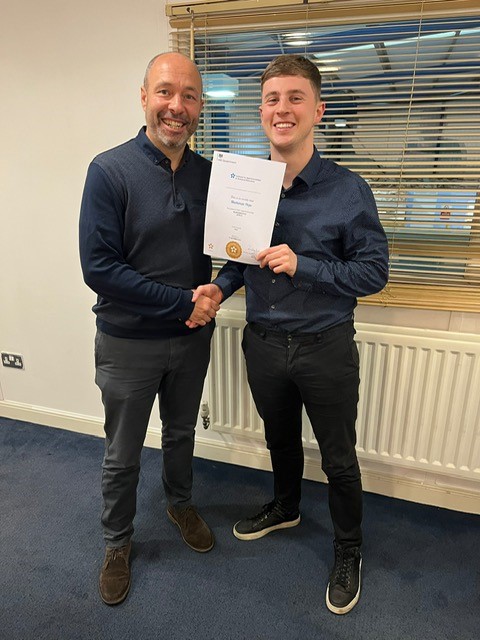 Mackenzie chooses Tudor Group
As we approach National Apprenticeship Week – beginning on the 6th February – we thought it would be a great opportunity to highlight our commitment to recruiting and supporting the next generation of talent. To illustrate our success in attracting the right people through apprenticeships, we spoke to Tudor Group's Business Development Manager, Mackenzie Hope, who joined us as an apprentice.
Flexibility for study and work
After graduating from Sheffield Hallam University in 2020, Mackenzie began looking for graduate jobs in earnest. He soon came across a Business Development position with Tudor Group, part of which involved doing an apprenticeship.
Mackenzie studied a sales executive course through Pareto, a national recruitment and sales training firm, working on assignments whilst working at the Tudor Group office.
"The Tudor Group's Managing Director, Fabien, was very flexible about my studying," says Mackenzie, "for example, if I needed a day working from home to focus on the apprenticeship, that was fine."
Over the two-year course, there were ten online learning sessions for Mackenzie to study, and he found it convenient that he could do so remotely.
He had to pass assessments with Pareto before undertaking the end-point assessment. This is an independent evaluation to determine if the apprentice has acquired the competencies, knowledge and behaviours specified in the relevant apprenticeship standard.
"One of the big attractions of the Tudor Group for me was the clientele," explains Mackenzie, "I liked the fact you can get out of the office and be involved in projects and meet clients face-to-face."
A buzzing sector
After researching the position at the interview stage, Mackenzie thought it sounded like a great role with good opportunities for progression .
Since starting in December 2020, Mackenzie has found that the sector offers a wide range of opportunities, working with customers covering a diverse variety of industries.
"There's the hospitality industry, the opportunity to visit different offices across the country, sports clubs, and much more. One of the key things I loved about my placement with the Tudor Group was that I was able to get out and about, meeting customers face to face, understanding their needs and how best we could support them with our services."
Skills that count
During his apprenticeship, Mackenzie's course covered material such as  pipeline management, outbound marketing, and sales finance. He learned how to deliver great customer service and schedule his diary in the most productive way.
On the days Mackenzie was working at the Tudor Group, he did a lot of learning 'on the job', quickly picking things up from colleagues and practical experience. Whereas the learning phases for the apprenticeship were structured and sequential, working in the office sometimes meant springing into action on ad-hoc tasks!
The skills he learned in the apprenticeship have been very transferable and useful in Mackenzie's day-to-day life working in facilities management.
Businesses benefit
Mackenzie believes there are huge benefits to taking part in an apprenticeship scheme, both for the business and the apprentice:
"I'd encourage businesses to take on apprentices because it's a win-win. It really demonstrates that you're hiring the right person when they're able to juggle studying and working at the same time.
"The commitment that the apprentice gives in doing that shows employers that the person is in it for the long term and is dedicated to a future with them. It can be challenging writing assignments and doing practical office work too, but there's an enormous sense of achievement."
Apprenticeships were once considered to be something started after leaving school; but this has changed in recent years. Mackenzie studied a degree before beginning his apprenticeship, and for many people embarking on a career change, an apprenticeship can be a great way of learning the ropes in a new industry.
Go for it!
Mackenzie has now finished his apprenticeship and feels he's achieving great results in his role as Business Development Manager. His advice for  prospective apprentices would be: "go for it!"
At the Tudor Group, we're delighted with Mackenzie's progress and look forward to celebrating National Apprenticeship Week.
If you'd like to enquire about a role with our company, please get in touch for more information.