We all know that we should follow sustainable practices: we rely on natural resources – at home, at work, at play – and ignoring their finite nature could lead to their exhaustion. Living sustainably is the key to a better future for everyone.
This applies to commercial cleaning and Facilities Management (FM), too. As described in this Designing Buildings feature: 'Sustainability in Facilities Management can be defined as the avoidance of the depletion of natural resources to maintain an ecological balance'.
Until recently, organisations may not have previously devoted much time to FM in their corporate agendas or published goals and targets. But setting sustainability, or more specifically, ESG (Environmental, Social and Governance) targets and the annual reporting of progress against these targets is now starting to feature on most companies' websites and social media channels, and is rightly becoming a consideration that dictates choice of supply partner or employer.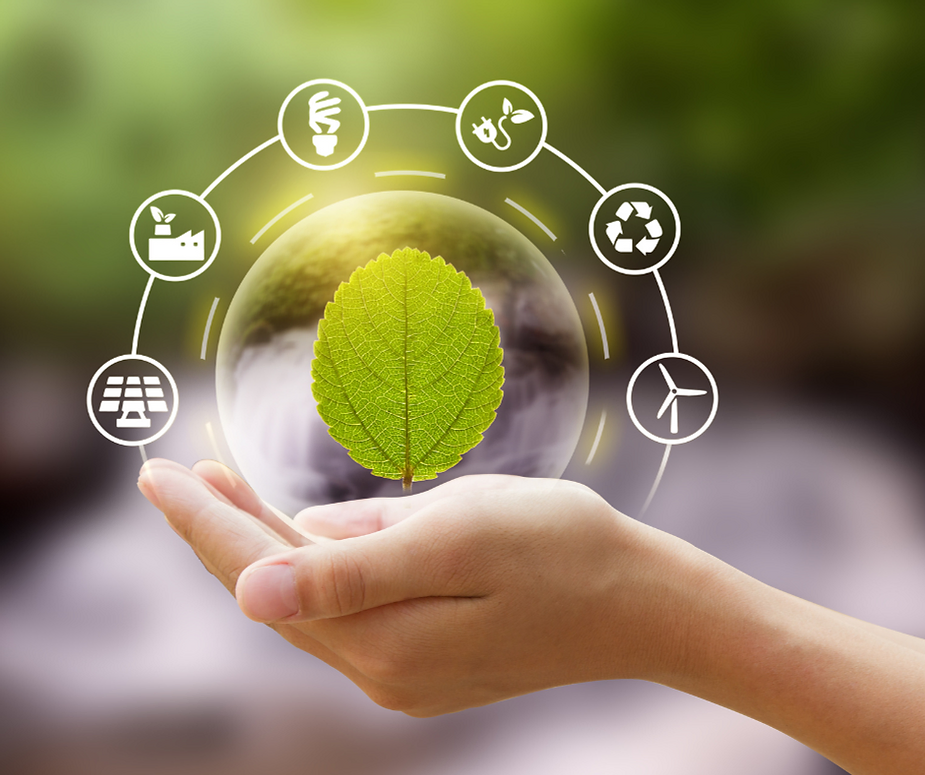 Why ESG in commercial cleaning and FM is important
Organisations are beginning to realise the important strategic role that FM plays in meeting ESG targets – and the success stories around this – that feature on companies' websites and social media. Not just because 'ESG' is a buzzword, but because it matters to people and businesses. Our recent blog post explored how expectations and conversations around ESG intensified during the pandemic.
To that end, it's unsurprising that cleaning and FM is evolving to incorporate new environmental and sustainability aspects.
How to build more sustainability into your business
The three broad principles of sustainability in FM are referred to as 'profit, people and planet'. In this article, Matthew Smith, associate head of the School of Energy, Geoscience, Infrastructure and Society (EGIS) at Heriot-Watt University Dubai explores some of the ways FM can contribute towards building more sustainable businesses:
Ensure usage of efficient systems and equipment
Residential and commercial buildings consume approximately 60% of the world's electricity[1]; using energy-efficiency strategies such as intelligent heating and cooling systems, and energy-efficient fluorescent or LED lighting can substantially reduce the overall negative impacts of built assets.
Take advantage of natural light
The amount of electricity and water used by companies not only impacts the global availability of natural resources but can also have an impact on the overall revenue generated by the business. Harvesting the power of natural daylight could be one of many "no-cost" initiatives, but which greatly impact staff wellbeing and productivity, vital for the success of any organization.
As well as ensuring systems are efficient, FM can drive sustainability through the enforcement of 'green policies', such as the increased use of biodegradable utensils, the elimination of plastic, or recycling of waste.
How we work at Tudor Group
Quite rightly, embedding ESG policies into the culture of a business is fast becoming a priority for many organisations. Not only to improve the environmental performance of a company, but also to sustain the wellbeing of their workforce and ensure ethical practices.
As commercial cleaning and FM service providers, we can recommend ways to enhance inefficient buildings and practices. Our environmental agenda is driven by our health, safety, environment and quality (SHEQ) Group Manager Ben Cadd, and underpinned by our internationally agreed environmental management system ISO 14001 accreditation.
Ben comments: "We're committed to operating our business responsibly and in compliance with environmental legislation and want to collaborate with our clients to positively impact their sustainability targets."
Some of the questions we're asked by clients about our own operations include:
How do you (Tudor Group) monitor your supply chain?
We have an ethical sourcing policy. We try to work with partners who provide materials, equipment, staff and labour that adopt a similar approach to us. In this way we ensure that our supply chain is as ethical as we want to be – we ensure we are as environmentally sound as possible.
What practices do you put in place that would help us to meet our organisations' sustainability targets?
We're committed to implementing a green cleaning programme that includes initiatives such as the use of renewable, sustainable, environmentally safe products, produced to ISO 9001 standards and ISO 14001 environmental certification, and accredited to Carbon PAS2060 for carbon neutrality.
These products contain fewer or no harmful chemicals, minimise single use plastic and create zero waste – with fully compostable packaging. Products are often super-concentrated, so there are more uses from a container as well as making storage easier. They offer a safer and more efficient cleaning process whilst reducing our environmental footprint.
We use cleaning methods that reduce water consumption and wastewater, and we provide electrified vehicles for our management and delivery teams.
How do you train your teams so that they have an approach towards continuous improvement?
We train our staff to make sure they are using the equipment effectively and are not wasting materials or causing spillages; our operatives understand our commitment and are best placed to spot where a small change to a job could make a big difference."
The benefits of getting it right
There are important reputational benefits for businesses in implementing and maintaining genuinely sustainable practices, such as the goodwill it creates and the positive contribution it makes to brands' health and performance.
But there are commercial benefits, too. Sustainability best practices generate savings to businesses in many ways, including[2]:
Reducing expenditure on water, energy, gas and other resources
Companies with properties with green certifications benefit from positive recognition and economic gains
Decreasing long-term liabilities through cost savings and lowered operating costs
Boosting tax and fee revenues through increased economic activity and property values
Improving financial stability in times of uncertainty
Using the above savings to make investments that spur additional savings, revenues and economic development
Staff retention: A survey by Glassdoor, one of the world's largest job and recruiting sites, shows that almost 80% of respondents would consider a company's mission and purpose before applying for a job there.
As an industry, we are all responsible for bringing about positive change, and a lot of obligation currently falls on individual businesses to be transparent about their products and practices. At Tudor Group, we are committed to making continuous improvements and partnering with clients to really make a difference.
To find out more about how we work with clients – from national hotel chains and restaurants to educational institutions and transport providers, please contact 0161 789 3550 or email sales@tudorcc.com .
[1] The United Nations Environment Programme
[2] https://www.ca-ilg.org/sites/main/files/file-attachments/the_fiscal_and_economic_benefits_of_sustainability_draft.pdf