Tudor Group were delighted to welcome Alan Gibbon to the role of Regional Operations Director earlier this year. Having worked across many large global accounts, Alan brings a wealth of expertise in operational management.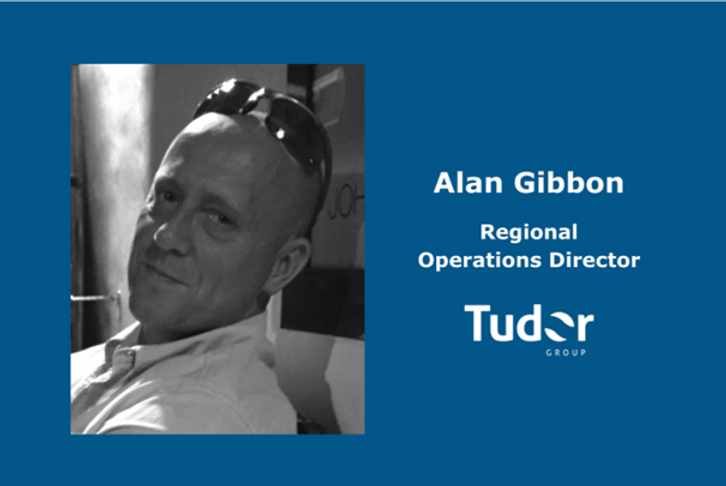 Alan's feet have barely touched the ground since joining Tudor Group in March, and he is already busy, working closely with our team and clients in South Wales.
Commenting on his first few weeks in the role, Alan says: "One of the things that was attractive to me about working for Tudor Group was their team spirit – there is a real family feel, a sense that they look after their people, which is very much aligned with my own values. I've really enjoyed getting to know the team and building a rapport with them, and having spent a lot of time travelling, for me it's also wonderful to be back in South Wales and working within the local region again."
Alan will play a key role within the Tudor Group leadership team, bringing to life our core values: safety, quality, passion, accountability and fairness. Alan's responsibilities will include overseeing the delivery of a range of contracts – from stadia to schools – managing client and stakeholder relationships whilst ensuring compliance and adherence to company policies.
To manage this effectively, Alan will not be desk-bound; the role will mean he is frequently out on site with our team: "I will be developing a good understanding of our contracts and identifying any potential challenges before they arise, so we can work out the best solution for our clients," Alan explains, "it's always nice to have the opportunity for a first-hand conversation with clients as to how else we can support their objectives."
Championing our teams' mental health and wellbeing
In addition to working with clients and supporting staff operationally on a day-to-day basis, Alan is a trained Mental Health First Aider (Mental Health First Aid (MHFA) England), and here to support our team if they feel they need to talk to someone.
Alan explains: "In my previous role I was very involved in a mental health awareness network; I subsequently took the Mental Health First Aider course, which allowed me to hold initial group sessions with staff, which then became bi-weekly or monthly 1:1 sessions, or 'surgeries'. I had the tools to point people in the right direction for whatever guidance they needed, and for some people that was a massive support mechanism.
"People soak things up, and after two years of the pandemic and the impact that has had on everyone, even having a chat for ten minutes can be beneficial. It's important to have open conversations with staff – and clients – to ensure a good mutual understanding. What might seem trivial to one person, could have a detrimental effect on another person's wellbeing."
Supporting employee engagement and welfare
Alan's passion for supporting the team's mental health and welfare has meant that, with his feet barely under the table, he has already put in place a new mobile team who are taking the lead on ensuring employee wellbeing.
Explaining more about the mobile team, Alan says: "Bringing the new mobile unit onboard means that we can provide more support to our staff where they need it. As well as ensuring health and safety compliance, and identifying any training or development needs, the supervisors within the mobile team will be visiting sites and running staff welfare engagement 1:1 sessions. Ultimately, our team is at the heart of our business and it's vital that we look after them and that they know they are valued.
"We want to ensure there is a support mechanism for our teams on the ground, we need to encourage people that it's good to talk. Our supervisory unit is visiting all sites and currently giving my details as a point of contact, so that I can assist with any issues they might be having, but ultimately, we plan to train all of our Contracts Managers in practical mental health first aid skills and that's something I'm very proud to be part of."
Fabien Caqueret, Managing Director at Tudor Group, adds: "We're delighted that Alan has joined the Tudor Group family, bringing his extensive experience and knowledge to the team during an exciting period of growth."
If you have a specific cleaning requirement that you would like to discuss, or if you would like to understand more about the way we work with customers, please get in touch on 0161 789 3550 or at sales@tudorcc.com.