If you've ever wondered how to go about cleaning external areas gently and efficiently, we can offer a solution tailored to your needs.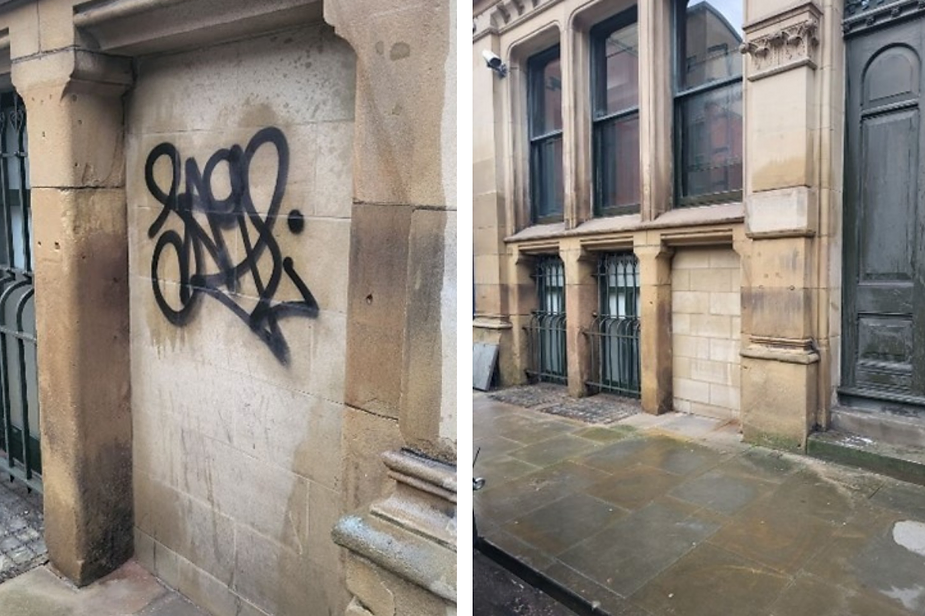 In Manchester this month, we successfully completed another graffiti removal — restoring the beautiful stone Grade II listed building of The Alan hotel back to its former glory, and once again brightening places where people live, work and play.
Graffiti vandalism is a growing problem, not only in Manchester but nationwide, causing eyesores within communities and linked to other forms of crime that can have a negative impact on business growth, tourism, and property prices.
But it's not only graffiti that can be tricky to clean in public areas; without the right expertise and equipment, removing chewing gum and cleaning facades, roofs and flooring can cause unnecessary disruption for businesses.
Our exceptional professional cleaning and support services can help businesses deal with incidents of graffiti or chewing gum nuisance, in addition to inside and outside cleaning in an ethical, convenient, way.
Cleaning with minimal disruption
Using Falch, a state-of-the-art, high-pressure, water-jetting system, we can clean ink and paint off buildings with no damaging chemicals and no excess spray or noise-disturbance, meaning shopping subways, pedestrian zones and all public areas can continue to be used as the graffiti is being tackled, perfect for busy city centres where disruption must be kept to a minimum.
By utilising both hot water-jetting and cold, the Falch system acts as a fantastic concrete cleaner as well as a brilliant solution for cleaning outdoor stone and tiles. It doesn't disturb or impact the surfaces, a critical factor for heritage buildings where the stone could easily be damaged – it simply leaves them looking clean and fresh again.
Relieving the pressure
For businesses that require difficult canopy, signage and façade cleaning, our teams use high-tech machines with varying water temperature, working pressure, and nozzle speeds. Facades can be easily damaged, so it's important for a small area to be tested first and the parameters adjusted for optimal results.
Cleaning large and hard-to-reach areas
Cleaning roof areas can be potentially dangerous, time consuming, and costly, but using the same Falch system technology, we are able to clean enormous areas quickly and effectively — and most importantly, safely.
For large-scale floor cleaning, both indoor and outdoor, our floor cleaner – using high-powered water jets – is ideal for efficiently cleaning areas such as petrol forecourts, train station platforms, and bus stops. The method doesn't leave any excess water or residue behind, so the area can be used immediately after the cleaning has been completed.
If you need your vast industrial sites deep cleaned, or an active public space regularly cleaned and maintained, we can help. As well as common-place industrial cleaning requirements, we will tackle any one-off and specialist cleaning needs you may have, too.
Help in sticky situations
Our expert technicians can even remove chewing gum and stains left by chewing gum using the specifically designed 'chewing gum nozzle' on our machines. Taking approximately 2 seconds to remove each gum spot completely, the affected area will be completely restored to its former condition.
Commenting on our specialist cleaning services, Jamie Farrell, Operations Manager at the Tudor Group explains: "All of our services are tailored to site-specific requirements, and our teams equipped accordingly, with the necessary safety clothing and materials to work on-site, ensuring peace of mind for our clients. The state-of-the-art Falch system allows us to carry out works during the day efficiently and safely, which might otherwise need to have been completed out of hours.
"Our clients know that keeping their buildings and surrounding areas clean and clear of unwanted graffiti is important. A dirty or vandalised building or space can impact how a company is perceived, even resulting in a loss of business.
"Solving cleaning problems – no matter how specialist – is what we've been doing at the Tudor Group for over 30 years. From our anti-graffiti technicians in the northwest, to our floor cleaners in the south, our mobile cleaning teams work nationwide – across many sectors – addressing all your cleaning needs", Jamie concludes.
All of our specialist cleaning is undertaken by ISO45001-certified and highly trained operators, using the latest machinery and equipment. Our services are tailored to site-specific requirements — and our teams are equipped with the necessary safety clothing and materials to work on-site.
Visit our specialist cleaning services page for more information on other types of specialist cleaning that we provide for our clients, or contact us on 0161 789 3550 or via sales@tudorcc.com.