Here are 3 ways that it might be holding you back
Have you considered the strategic impact cleaning has on your business? Moving beyond thinking about what actions are being taken, and considering instead what those actions bring for an organisation?
During delivery of a commercial cleaning contract, a lot more is going on than removing the dust or emptying the bins. In our experience, a judgement about the effectiveness of a daily office clean should extend to whether it's pulling its weight in terms of delivering your broader objectives.
These might include new business growth, staff retention, productivity, reducing absenteeism and price increases. And your cleaning decisions have an impact in all of these areas, and more.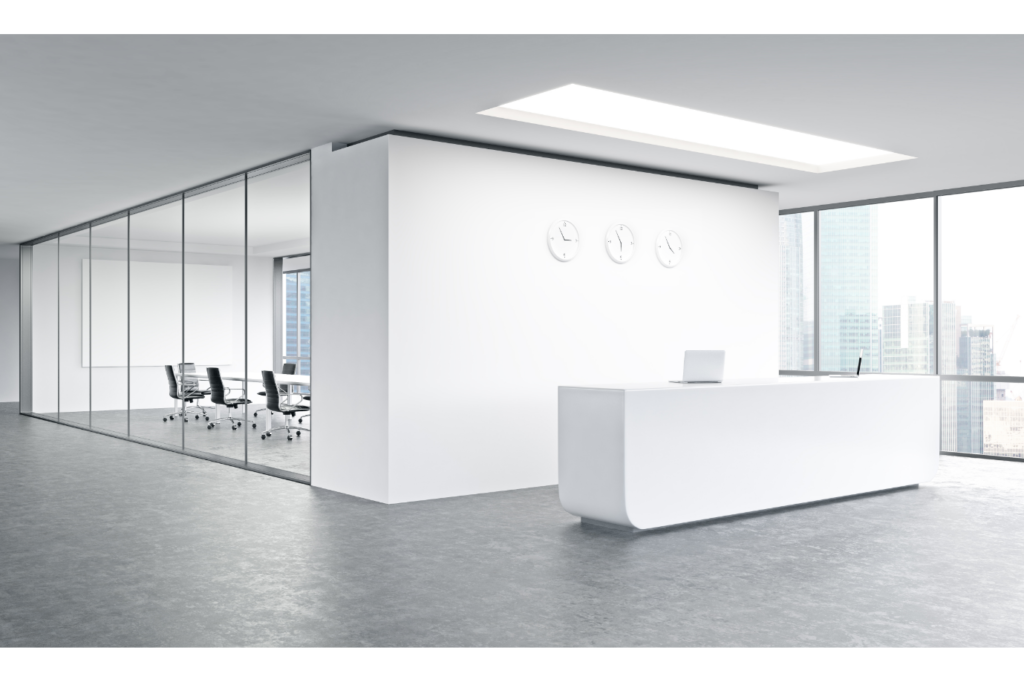 Let's explore these potential impacts in more detail, or if you just want to quickly judge if your cleaning company is helping to achieve your goals, jump to the bottom of the article for 3 top tips.
1. Business growth objectives
Arriving at the office, juggling coffee cups, car keys, laptops and bags, you exchange quick hellos on the way to your desk. With all that going on, it's perhaps not surprising that you might not have noticed the logo outside which could possibly do with a façade clean, the coffee rings on the desks, fingerprints on the door plates or the strange new mark on the carpet.
A new prospect visiting the office for the first time, however, could well notice all of these and more.
Despite hearing it a thousand times, we all know that you only get one opportunity to make a first impression.
It's such a cliché, but only because it's true – first impressions count.
If your business delivery rests on quality and attention to detail, this has to be evidenced from the minute someone steps into an area they consider to be 'yours'. This could be the car park or the front desk, but all those micro interactions are creating a perception of your business. Leaving all your best efforts until someone is in the meeting room means you have to work harder to undo those initial beliefs.
And when it's in your control to make those as positive as possible from the outset, why make life harder?
2. Staff wellbeing and productivity
All management teams are well aware now of the potential threats caused by contact with pathogens via surfaces, and the responsibility they shoulder in protecting their workforces from harm.
The recommendation from the HSE is that, following a risk assessment, you will be able to put into place a cleaning regime that is suitable for that level of risk. This regime should include both cleaning and sanitising, with a mix of regular and deep cleans taking place throughout the day.
Without a regime to reflect your business's individual needs, you could be exposing your staff to illnesses ranging from respiratory infections to outbreaks of flu, skin infections to norovirus.
Anyone who manages staff dreads a phone call first thing from someone ringing in sick. The work to be redistributed, meetings delayed and deadlines to be pushed back. Your investment in a cleaning contract with a professional supplier could make the difference in your employees' sickness record.
Not implementing an effective cleaning regime will not only expose your staff to potential hazards, but might also expose the business to reputational and financial damage, particularly if a lack of attention to hygiene can be identified.
And were you aware of the impact of poor office cleaning standards on productivity?
Another cliche coming – tidy desk, tidy mind. There's some evidence to show that tidy desks make people more productive, more organised, even more generous. There is conflicting research that shows that creative people benefit from untidy desks, improving their creative thinking ability.
But dirty desks have very little going for them. And the signal a dirty desk sends to an employee is that it is acceptable for standards to be low, and that could significantly impact your business.
3. Office condition
One further way in which cleaning can strategically benefit your business is in assessing and monitoring the fabric of a building.
Mould and mildew form when there is moisture in the air. When a surface has been wet for more than 24 hours, mould forms. Offices offer ideal conditions – warm air and materials to feed on – so if it undiscovered for a period of time, mould can grow and spread.
Commercial office cleaners recognise the different types of mould, and can advise on the best course of action to manage and treat the area. Some moulds should not be touched with bare skin so having someone who knows what to look out for will make it quicker to get resolved, and also will help prevent people from unnecessary infections.
Working our way around a building or office, we can keep an eye out for the appearance of areas of damp but also to notify you of other areas of concern such as blocked ventilation or building damage.
Caught early, these sorts of issues don't escalate into much more expensive problems.
So how can you tell if your cleaning contractor is doing the job to a high standard?
It's easy to distract people with fresh smells and clear surfaces – but those sadly aren't proof that surfaces are indeed clean and sanitised, and therefore free of potentially harmful pathogens.
If you want to know if your current provider is up to standard in supporting your business objectives, here are three of the steps that we always take to ensure an environment has been properly cleaned are:
1. Training
To ensure best practice and consistency, we ensure that all our operatives are fully trained and held to standards set by British Institute of Cleaning Science, the largest independent, professional and educational body within the cleaning industry, and ISSA, the leading trade association for the cleaning industry worldwide
2. Equipment and materials
To stop cross contamination and maximise efficiency, as well as ensuring we are making environmentally friendly as well as compliant choices, our equipment and materials are carefully chosen, professional products designed with the job in mind
3. Measurement
To ensure that 'clean' truly is clean, not just visually appealing and/or smelling nice, we have regular auditing regimes in place, such as ATP testing to ensure there are no remaining living cells following the clean, as the presence of these living cells would indicate that there are pathogens on the surface that could still present a danger
If you want to hear more about how we approach our work or if you are looking to ensure that your cleaning regime is benefiting your business, please get in touch. We can provide daily office cleans, specialist cleaning, façade cleans and other specialist FM services throughout Manchester and the North West.
Our reputation is built on our high standard of work, the quality of our staff and our commitment to getting the job right. We can deploy experienced, professional cleaners to your site quickly for both one-off events as well as periodic cleans.
To find out more about our office cleaning services, please contact 0161 789 3550 or email office@tudorcc.com